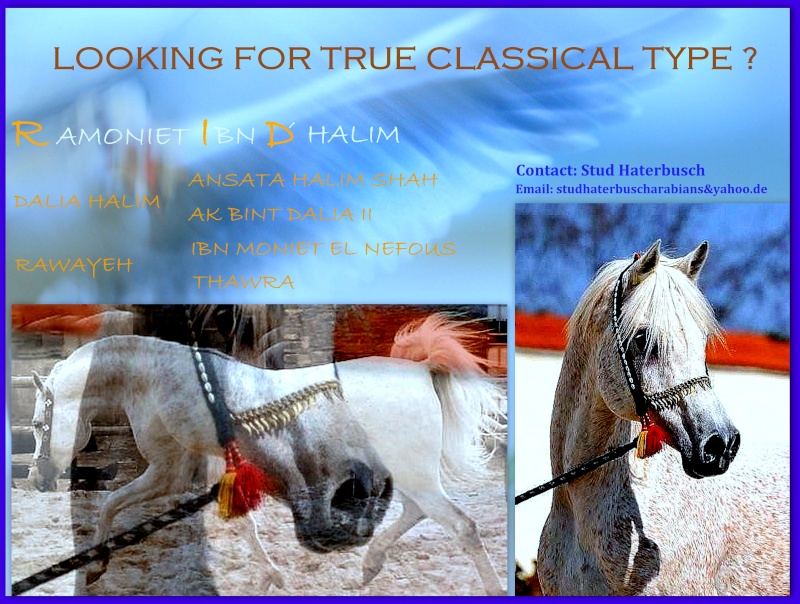 for lease - or for sale!
Very classical looking double IBN MONIET EL NEFOUS & ANSATA HALIM SHAH grandson offered for your consideration!
Half sibling to the stallion, is dam to SHAHADA TOA, who besides other ones, produced the EE Champions;
THEE RICOCHET, THEE BRAVADO, SABHIA RAQQASA..who in turn have laready produced successful progeny in
Middle East and US.
One more very good producing half sibling to the Stallion´s dam is; KA SULTAN RAQWA, who is granddam
to following EE Champions, as RAJAH KA, REGAL SPIRIT KA, ROYAL SPIRIT KA, MARQUISAH KA, SIMPLI IRRESTIBL KA..
That just in order to mention a few..there are lots more wellknown
horses with very closed pedigree . .as for instance one more mentioned;
EL MAREEKH.
His extended pedigree you may find here;
http://www.allbreedpedigree.com/ramoniet+ibn+dhalim
Besides that very good pedigree and family, I want to mention that the 1,56
tall RAMONIET has been awarded with a white ribbon by the German Arab Horse Association VZAP -because of his correctness, his beautiful head, nice classical type, deep body, very stong legs and very powerful movements.
He´s ridden, easy to handle with very kind character.
Knows covering in hand and also to be with mare in open stable and pastures.
We would appreciate seeing him again in the breed but also if you´re looking for a Riding Stallion to ride outside, he´s fun and joy and has a lot to offer!
We love him very much but he´s very wasted with us now because we can´t
use him in the breed anymore and where we´re sad too, do not have any
further possibility to ride him, what he always enjoyed so much.
In case of being interested in buying this wonderful stallion, we also may
imagine taking a female Arabian in exchange when it fits, as a a part of payment or exchange.
Let us know if you´re interested to lease or to buy him,
we´re looking forward to interested people - breeders and /or a Rider!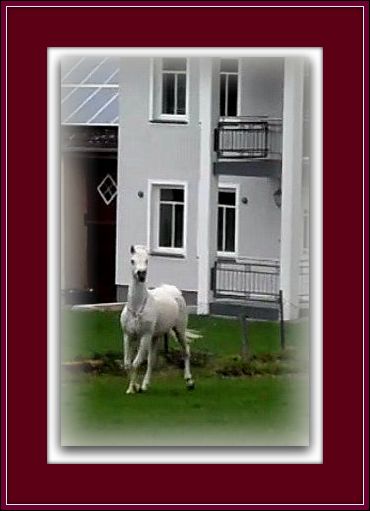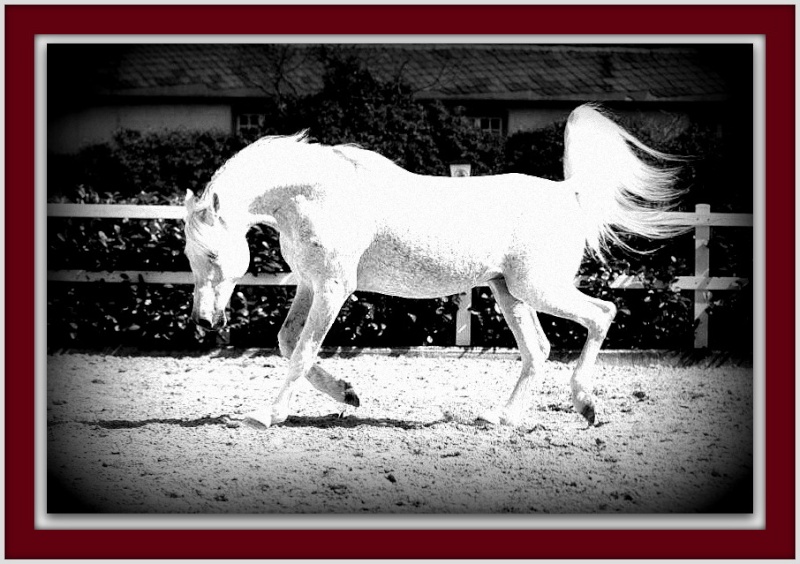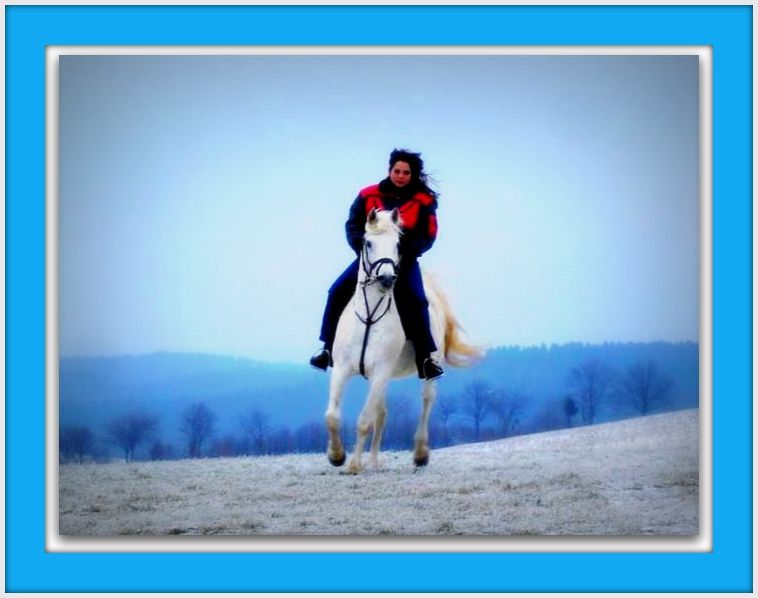 A few progeny picis;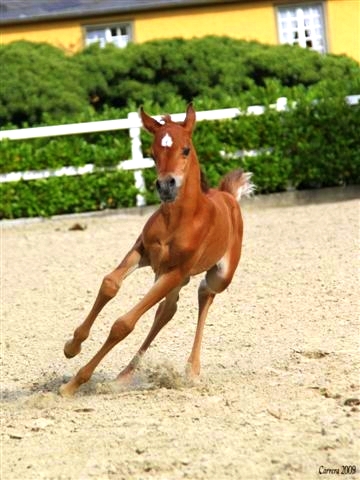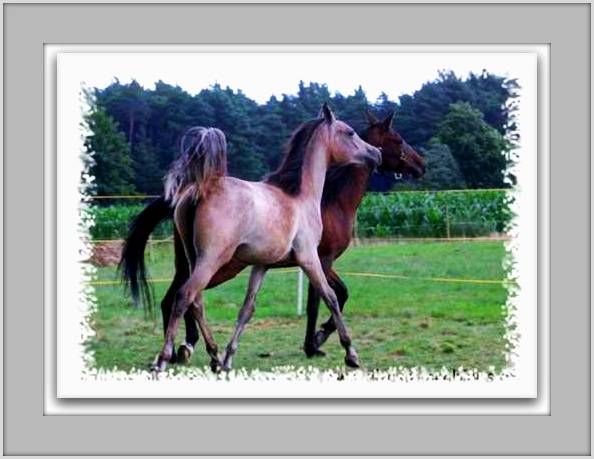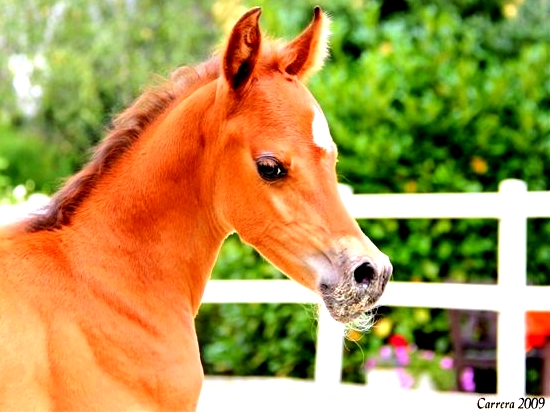 Ooooh, wanted to upload more pics but do not know how because when I try
promotion comes ;(
Will try to continue later...
Transport to any location in Europe possible!
Contact for further info and questions please:
Email:
studhaterbuscharabians@yahoo.de
or 0049(0)175 / 4349100
I pushed again " editer " - now it seems to work again, jippieh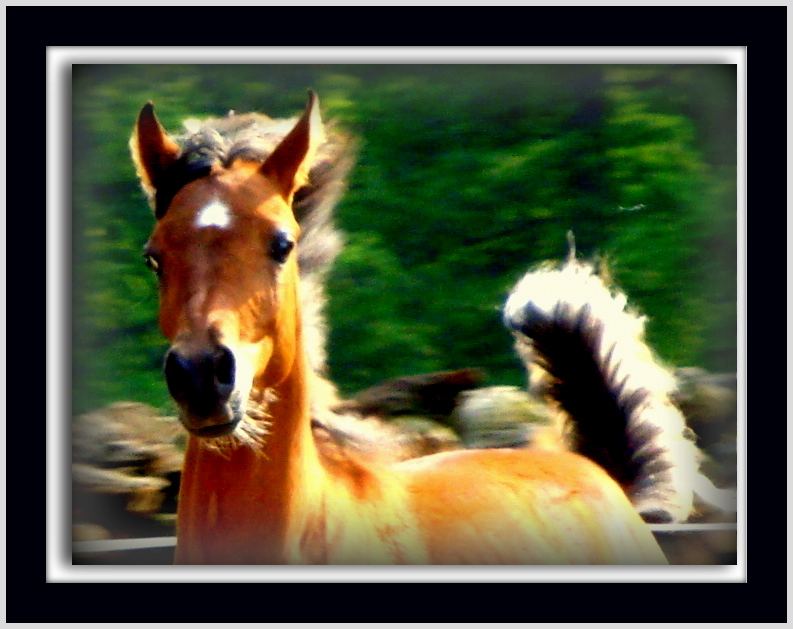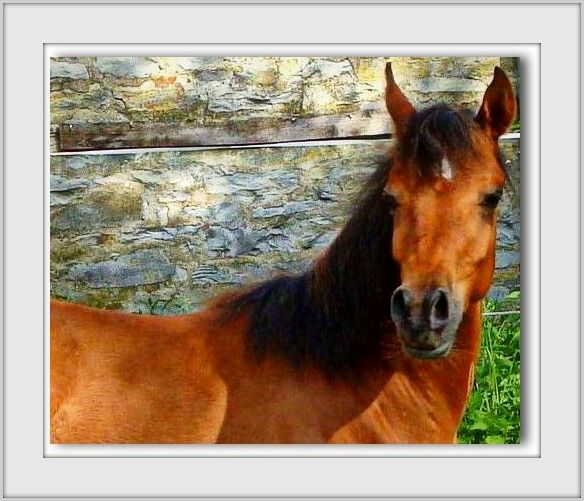 the young Ramoniet;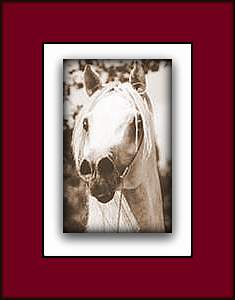 want to close with a recent snapshot, taken in the late evening;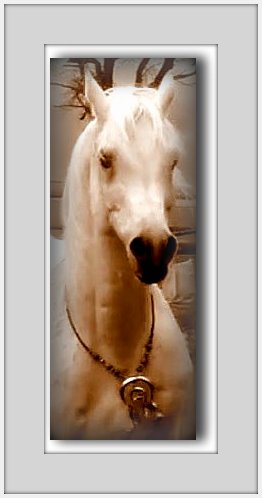 We´re looking forward to inquiries from breeders and / or Riders
- if interested in a lease or to buy,
thanks for your attention!